The EBU in Memphis to receive the KBA 2018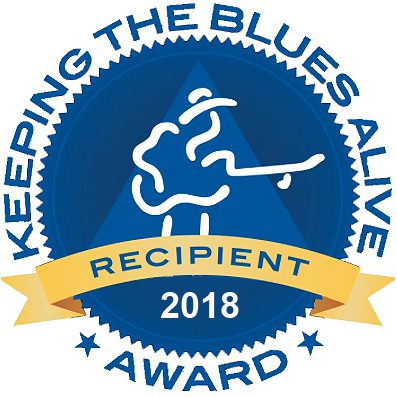 On January 19th the
European Blues Union
received in Memphis the
Keeping The Blues Alive
award from the
Blues Foundation
. During the ceremony, held by Art Tipaldi,  
Jay Sieleman
, the previous president of the Blues Foundation, introduced our association describing the first steps since 2008 in Italy and the Blues Conferences in Notodden and Hondarribia.
A delegation of the EBU board was present to receive this prestigious award.
Blues Behind the Scenes Ceremony
EBU organized an incredible ONLINE event: Blues Behind the Scenes Ceremony AND SOME GREAT MUSIC FROM EBC WINNERS OF THE PAST. The European Blues Union would like to honor the winning bands of the past 9 EBC editions (from 2011 to 2019) with this special online event that we will stream both on Facebook and Youtube starting from June 27th at 6,00 PM. We are all a part of this great community and it will be great to come together in this time of waiting for next EBC 2022 that will be in Malmo in March, and future editions in Poland and The Netherlands. So much to be excited about!
The European Blues Union organize every year a Blues Challenge. Reflecting the requests from several countries for the rotation of these important events and to discover other environments and new opportunities…
Latest news from EBU world
<!—-><!—->
<!—->
<!—->
<!—->
<!—-><!—->
<!—->
<!—->
LET'S CONNECT AND SPEND A SUNDAY AFTERNOON TOGETHER EBU organized an incredible ONLINE event: Blues Behind the Scenes Ceremony AND SOME GREAT MUSIC […]
<!—-><!—->
<!—->
<!—->
<!—->
<!—-><!—->
<!—->
<!—->
The Memphis-based Blues Foundation, created in 1980, has become the organizational beacon of the blues world. The foundation has developed the genre's two […]
<!—-><!—->
<!—->
<!—->
<!—->
<!—-><!—->
<!—->
<!—->
<!—->
We regret to inform that due to the escalating situation related to the COVID-19 pandemic, we are forced to cancel the European Blues Challenge 2021 in Chorzów, […]