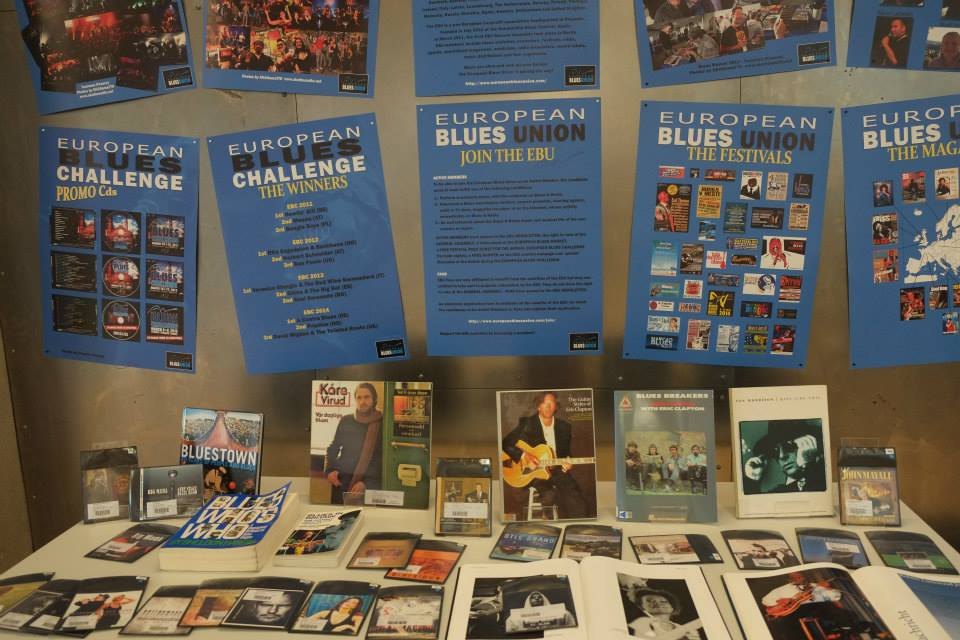 The 2nd European Blues Expo had its grand opening at the prestigious Bok & Blueshuset library in Notodden, Norway, on 31 July 2014, and was on display through August 2014.
The exhibition showcased the various activities organized by the EBU like the European Blues Challenge (EBC), the Blues Market, and other cultural events associated with today's lively European Blues scene.
There was a photo exhibition by international photographers, Pertti Nurmi (Finland), Alain Hiot (France), Sylvie Bosc (France), Roser I. Valls (Spain),SKAttomaTTO (Italy), Charlie Hussey (Ireland), Aigars Lapsa (Latvia), Morten Gjerde (Norway), Carme Barrera (Spain), Fred Delforge (France) and Roald Jungård (Norway).
The Expo covers loads of information hosted by the EBU members dealing with European Blues festivals, magazines, musicians, radio shows, record labels, etc. Film footage recorded during the four past editions of the EBC (Berlin,Toulouse and Riga, 2011-14) was provided by Bad Music Blues. Bok & Blueshuset and Europas Blues Senter in Notodden provided the logistical support, as the 2nd European Blues Expo has become part of the permanent Blues legacy to be housed at this fancy new Library.
The event was supported by the legendary Notodden Blues Festival.The Expo wias opened by the EBU President, Mr. Tom Ruf, the Director of Europas Blues Senter, Mr. Espen Fjelle, the President of Notodden Blues Festival, Mr. Jostein Forsberg, and some EBU Board members. At the same time it was presented the fantastic photo exhibition by Pertti Nurmi, board member of the EBU. and the editor-in-chief of the legendary Finnish Blues News magazine for almost a decade in the 1980s and awarded by 2015 Keeping the Blues Alive.
Location:
Bok & Blueshuset – Storgata, 1 – 3674 Notoden (Norway) – www.bokogblueshuset.no