The fifth edition of the Blues Behind The Scenes Awards, born to recognize European individuals or organizations that have worked actively and devoted their life, making significant contributions, to advance and support the blues in Europe, was held in Ponta Delgada, The Azores, during the 9th European Blues Challenge.
And here are the recipients:
What started as a hobby born from the love for the blues 24 years ago, has became a full-blown company and a trademark recognized around the world. Today, the German Bluesnews Magazine has more than 5.000 subscribers in Germany, Austria, Luxembourg and Switzerland. For the continuous work to make a dream come true and create one of the most outstanding blues magazines in Europe, the 2019 winner in the MEDIA Category is DIRK FÖHRS, director and current editor of German Bluesnews Magazine (Germany).
The trophy will be collected by his colleague in the magazine TIMON MENGE
For more than 20 years Lowtone Music in Germany has brought great American blues artists to play in Europe, among them Sue Foley, Sugaray Rayford. Lurrie Bell, Kim Wilson, Darrell Nulish, Sugar Ray & The Bluetones, Nick Moss, Anson Funderburgh, Junior Watson and many others. With his two young sons Kenan Özdemir on guitar, Levent Özdemir on drums and himself on bass, leads the band The Özdemirs, an  old style blues and American roots music band which has backed artists like Kirk Fletcher, Trudy Lynn, Johnny Rawls, Johnny Moeller, Shawn Pittman, Memo Gonzalez, Sugaray Rayford, Mike Morgan, Holland K Smith or Angela Brown. For bringing to play in Europe some of the best in American blues and roots music, involve his sons in blues music and be one of the most gentle guys in the blues business, the Winner in PRODUCTION Category is ERKAN ÖZDEMIR owner of Lowtone Music (Germany). Unfortunately he has not been able to be with us due to personal affairs but he sent us some thanks words that will be read by Peter Buhl (Crosscut Blues Association):
"First of all I would like to apologize for not being able to attend the ceremony and all the fun you all are going to have this weekend. I have a very important family meeting this weekend. I will try to make it to the next European Blues Challenge so we can then kill some beers together. I am so honoured and grateful to receive the "Blues Behind The Scenes" Award from the European Blues Union and want to send out a big "THANK YOU" to  everyone for that AND also for all the fantastic, so dedicated work you all are doing the whole year to support the music we all love so much! THE BLUES! Being in this business on and off stage for over 25 years now, I have made a lot of friends through the Blues all over Europe (some of them are here right now!) and have seen the whole European Blues Scene growing together over the years and I am very proud to be a part of this strong community!!! So let´s raise our glasses to the European Blues Union!!! CHEERS!!"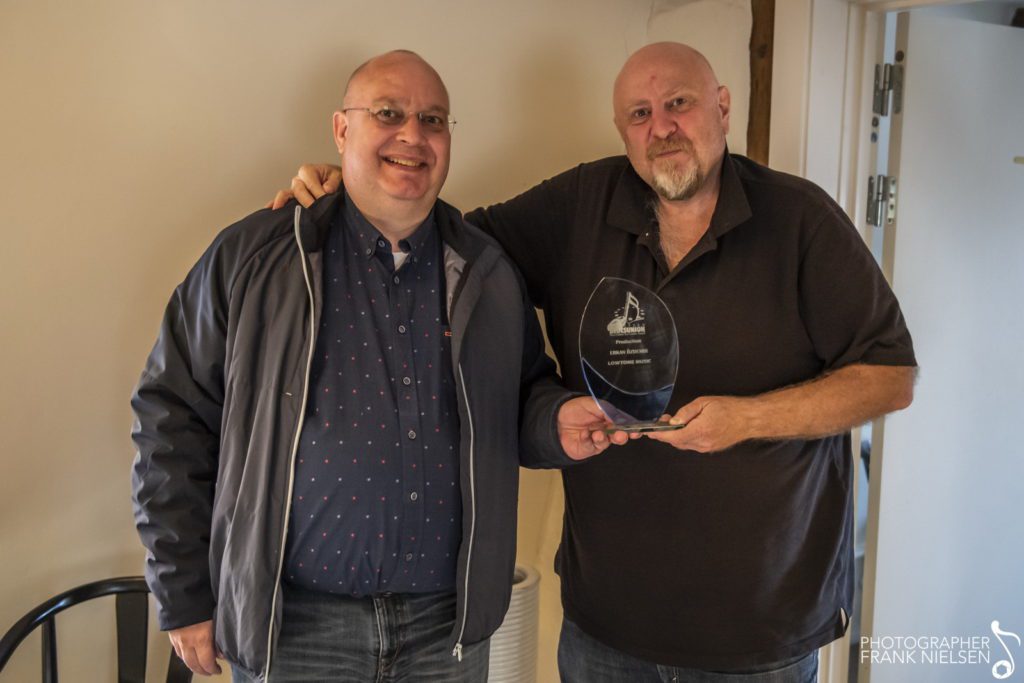 Blues Hondarribia has become one of the most renewed festivals in Spain. Besides an amazing free entrance festival, his director Carlos Malles is a passionate and real blues lover. He has managed to give birth 14 years ago and develop a high quality blues festival, which has also become well know both in Europe and USA, that balances the most genuine blues, also giving place to some more actual blues without forgetting other related styles like rhythm & blues, jump or soul, always on an easygoing friendly and exciting atmosphere. For the amazing tenacious work to create, develop and keep alive a high quality free entrance festival that every year brings the greatest blues artists to play in Spain, helping to promote blues knowledge among music fans. The winner in PROMOTION category is CARLOS MALLES, director of Hondarribia Blues Festival (Spain).