Please read very carefully
EBC NEW DATES: 2 – 4 June!
Make your arrangements for the 10th EUROPEAN BLUES CHALLENGE
Tickets for the general audience and non-EBU members will be sold by Malmö Live, https://malmolive.se starting from 28th March.
EBU General Assembly
Blues Market
Blues Expo
Blues Behind the Scenes Awards
EBC 2022 Band
---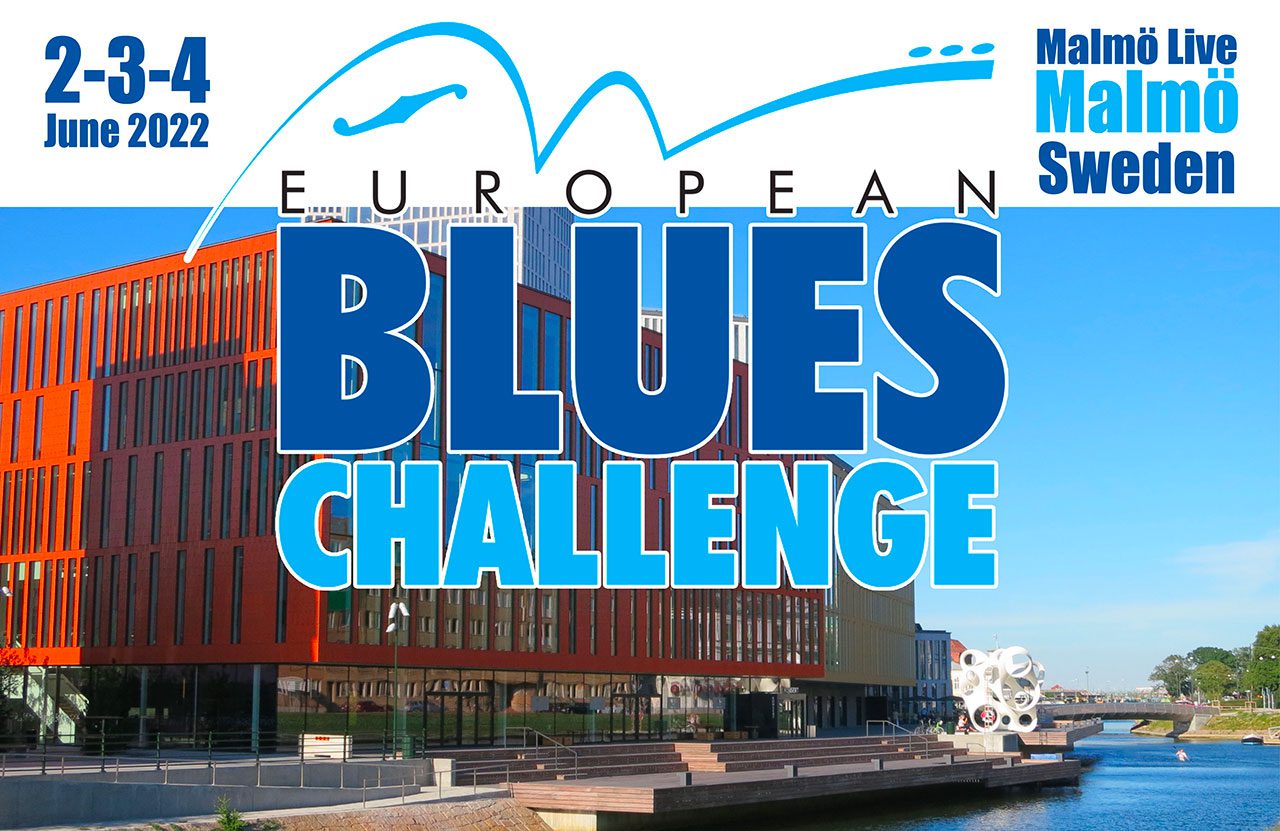 ---
Malmö is the third largest city in Sweden, located by the sea in the southwestern tip of the country. The Öresund bridge connects Malmö with Copenhagen, the capital of Denmark. Malmö was actually one of Denmark's largest cities during the 15th century. The city is warm in summer and in winter not quite as cold as the other parts of Sweden.
---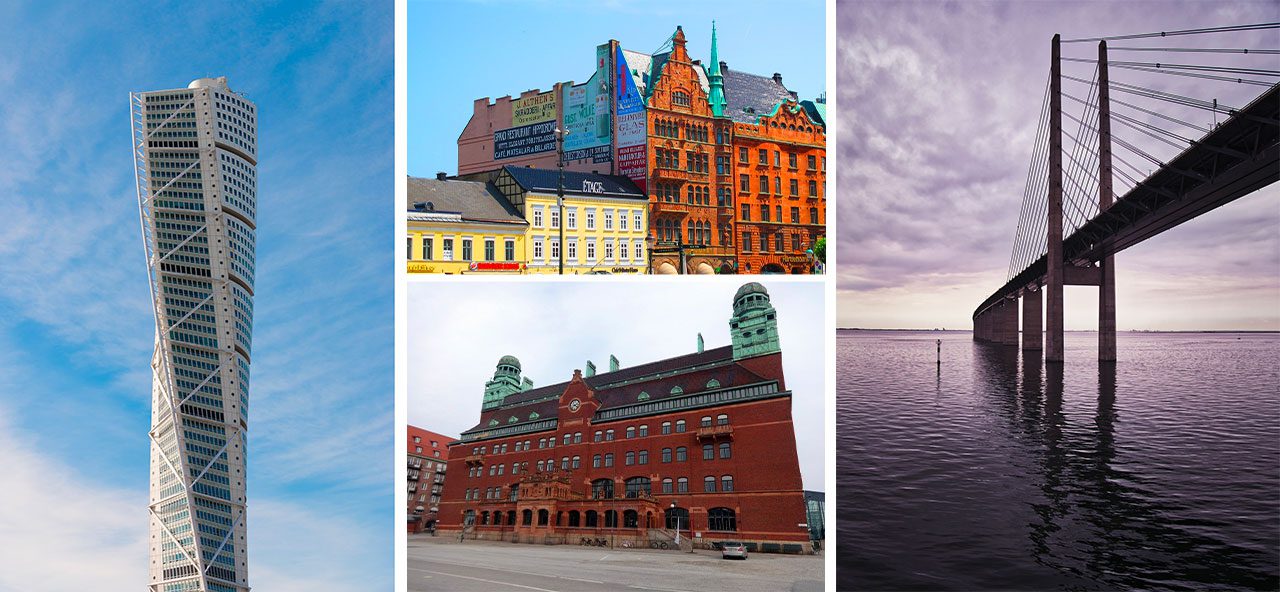 ---
Malmö has a variety of places to see. A big recreational park, Pildammsparken, is close to the stadium. There you can take a walk, a jogging tour or just sit down and feed the ducks. Stroll along the seashore at the West Harbour (Västra Hamnen). Breathe the fresh air and experience the modern part of Malmö. It's an old shipyard area now turned into a fancy residential area. Here you can have a closer look at the twisted building, Turning Torso. Bullen ("The Bun") is the place to have a beer and be served Swedish dishes. Meatballs or fried bacon with onion sauce are standards. Here the local musicians and other cultural workers meet and relax. The most multi-cultural place is probably Möllevången. It's an open square and a food market surrounded by international shops and restaurants. Cheap and cozy. The more hip place to have a drink and a meal is at Lilla torg (Little Square) in the old town centre, surrounded by 17th century buildings. And don't forget to visit Saint Peter's Cathedral.
Swedish currency Krona is about 0,1 € (10 Swedish Krona = 1 €, 100 Swedish Krona = 10 €)
The EBC 2022 event will take place the Clarion Malmö Live. It's a newly built hotel and cultural center, opened in 2015 right in the center of the city next to the railway station.
---
The pre-event concert will be held at 'Kuben' while the actual Blues Challenge will take place in the 'Congress Hall'. Both in the same building.
There are restaurants in the ground and top floors.
EBC 2022 local organizers work actively to guarantee you a safe visit. There will be disinfection stations around the venue and separate routes for getting in and out to avoid confrontations. The venue will be organized according to governmental recommendations which may mean limitations in attendance.
Tickets for the general audience and non-EBU members will be sold by Malmö Live, https://malmolive.se starting from 28th March.
---
HOW TO ARRIVE TO MALMÖ
By air
The easiest way is Copenhagen Airport. From the airport you simply take the shuttle train directly to Malmö. It takes about 20 minutes. You can be requested to show your passport on the train.
By train
When coming from the airport, you'll reach the Clarion Hotel Malmö Live venue by getting off at the Malmö Central Station.
By car
Arriving by car from Denmark over the Öresund bridge, continue along E20 to the second exit named 'Naffentorp' (exit no. 11) and go for 'Malmö' in northern direction. Keep on driving straight on upon the 'Pildammsvägen' through the entire city until you reach the old town and Clarion Hotel Malmö Live on the right side at the canal crossing.
Arriving by car from within Sweden (E6), turn right twice when reaching Malmö Entré and follow 'Hornsgatan/Norra Vallgatan' to the end of the road. There you should have Malmö Live on the right side along the canal.
---
ACCOMODATION
---

---
Clarion Hotel Malmö Live
Dag Hammarskjölds torg 2
21118 Malmö
Phone: +46 40 20 75 00
E-mail: 
book@clarionlive.se
Discount Booking Code: 
EBC2022
This is the same building as the event, a 4-star hotel with two restaurants. Connected to the convention centre and the venue, it's by far the most convenient place to stay. It's a fancy hotel with high comfort but then again not the cheapest. 
Book your room here
.
---
ALTERNATIVES IN THE NEIGHBORHOOD
Within a 5-10 minute walk there are Comfort Hotel Malmö and Best Western Hotel Royal
Comfort Hotel Malmö
Carlsgatan 10 C, Malmö
Discount booking code: EBC2022
Location in the exciting, redeveloped harbour area, 200 m from the Central Station and 500 m from the venue. Guests can work out in the gym, open 24/7. Single SEK 880 Double SEK 990. Breakfast included.
Book Comfort Hotel Malmö
Best Western Hotel Royal
Norra Vallgatan 94, Malmö
Very good location. They do not offer special discounts but may be quite affordable.
Book 
Book Best Western Hotel Royal
---
OTHER ALTERNATIVES
Hotel N Hostel Malmö City
Situated in the real heart of Malmö, this hotel has an excellent location, 50+ rooms at good prices from SEK 615/room/night.
Book 
N Hostel Malmö City
Best Western Malmö Arena
Located in the southern part of Malmö, close to the Hyllie Train Station where the Copenhagen Airport shuttle train stops. There's a 11-minute train ride to the Malmö Central. Special rate for EBC, 2-4 June 2022: 20 % discount on all rooms.
Book 
Best Western Malmö Arena
 or contact 
reservation@malmoarenahotel.com
Rut & Ragnars Vandrarhem
This hostel is in southern Malmö, 10-minute walk from the vibrant Möllevången district. Renovated in 2012, it provides a shared kitchen and simple rooms with a flat-screen TV. WiFi and parking are free. Good prices.
Book 
Rut & Ragnars Vandrarhem
There are many comfortable hotels around the train stations. Check out 
more hotels
---
CONTACT FOR BANDS
Malmö local organizers will bring additional information to participating artists.
Suggested hotels for bands: Clarion, Comfort or Best Western as described before.
If needed, bands can write an email to 
contact@ebc2022.eu
.
If there is an urgent need, please call Hans-Peter Nilsson +46 (0)70 885 42 07
Stage manager: Mattias Dalin, 
mattias.dalin@eurosound.se
Sound and light are run by Eurosound, 
www.eurosound.se
---
EBU MEMBER ARRANGEMENTS AND COVERAGE
EBU membership covers free entrance to the European Blues Challenge as follows:
100 Euro Active Member: One free entrance pass for the three days, Thursday-Saturday
200 Euro Active Member: Two free entrance passes for the three days, Thursday-Saturday
---
EBU MEMBERSHIP – RENEWAL
If you have not yet acted, this is a kind reminder that now is the high time for renewal of your EBU membership for 2022. Kindly, first pay your membership fee before doing any of the arrangements relating to the EBC 2022. The membership renewal form can be found at our website https://europeanbluesunion.com/join-renew.
Pay your membership fee preferably by bank transfer to
IBAN: BE89 0688 9104 7885
BIC/SWIFT: GKCCBEBB
BELFIUS Bank NV
Pachecolaan 44
1000 Brussels
European Blues Union VZW
Chrysantenstraat 28
1020 Brussels
Or, alternatively, by PayPal to treasurer@europeanbluesunion.com
Please make note that the membership fee needs to be received in full (100 or 200 €) without any costs to the recipient, the EBU. Unfortunately, PayPal automatically charges the recipient a 7 % transaction charge. Thus, if using PayPal, you should either place a payment of 104 € (or 208 €) or send your payment using the option "Sending money to a friend" within the PayPal application. It's somewhat complicated so that's why we strongly suggest using the bank transfer payment option.
Thank you already in advance for your unconditional support!!
---