MARIUS DOBRA BLUES BAND – Austria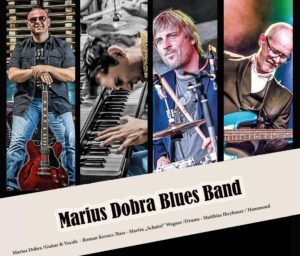 The bandleader and songwriter Marius Dobra has been on the road with his guitar for more than 40 years. Music and lyrics are, with a few exceptions, all written by local lower Austrian artists .You can clearly feel his passion for blues, Jesus Christ and the influence of his role models Gary Moore and SRV. The Marius Dobra Blues Band has performed at numerous national as well as international festivals featuring famous musicians such as like Josè Feliciano, Supermax, Robben Ford,Josh Smith,Eric Gales, and many more. They succeed by the right mix of blues, rock and very strong ballads – the tension definitely never drops.
Marius Dobra: guitar
Roman Kovacs: bass
Martin Wagner: drums
Matthias Ihrybauer: Hammond
Contact: Mario Felix 47felix@gmail.com
---
STEVEN TROCH BAND – Belgium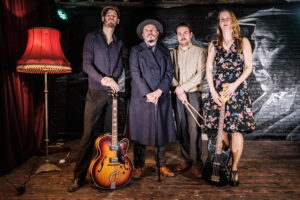 Singer/harmonica master Steven Troch got "contaminated" by rhythm & blues in his late teens and has been several fronting bands since 1994.  In 2016 he surrounded himself with a very talented & experienced bunch of musicians. Guitarist Matt T Mahony is carrying the torch high, keeping one eye on tradition while pushing forward into newer areas. Miss Liesbeth Sprangers keeps a steady pace on her powerhouse bass and drummer Bernd Coene brews up a wide variety of rock-solid rhythms like no other. Steven Troch Band is a tight four piece band that plays rough-edged contemporary blues with soul-baring conviction.
Steven Troch: vocals, Hohner harmonicas
Liesbeth Sprangers: bass
Matt T Mahony: guitar
Bernd Coene: drums
---
BILLY TEMPESTA BLUES TRIO  – Bulgaria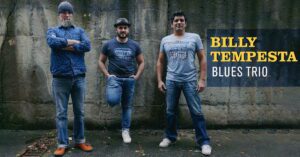 Originally Marcelo Tempesta he is from the region of Pulia, Italy.  Starts to play guitar at early ages. During 2014 comes to Sofia, Bulgaria to study dentistry and regularly begins visiting and playing at the jams in the blues clubs there. Very fast established himself as a popular blues & rockabilly guitarist on the blues stage in Sofia. Played in several rock'n'roll and blues local projects in Bulgaria. During 2019 participates as guitar player and main hero in the tribute projects "Blues Brothers". During the next year of 2020 he forms own trio.  2021 releases his 1st album called "Sofia".  Currently Marcelo works and resides in Sofia, Bulgaria.  YOULIAN TRAYKOV (bass)
One of the well know bass players on the blues stage in Bulgaria. He begins playing bass late – in his 30th. One of the most workable and committed musicians in Bulgaria. Initially plays with the rock band "Magisters" but soon switches only to blues projects.
He has played bass for the multi awards winner Fiona Boyes (Australia) at her concerts in Bulgaria during 2019.  Shared the stage with several prominent European harp players, such as Mingo Balaguer (ESP), Franco Limido (ITA) and CadiJO (FR) as participant in the annual events "Harp Attack" in Bulgaria  Performed with Blues-Stream Band at Bergamo Blues Festival, Italy in 2019. VESELIN NIKOLOV (drums)
He has played drums in the past for several rock and blues-rock bands. During 2003 plays in the USA with "Bad City" band and Vasko "The Patch" (participant in EBC 2012, Berlin) having a short tour. During 2020 joins Marcelo in his blues trio.
Marcelo "Billy" Tempesta – el. guitar, acc. guitar, vocal (Italy)
Youlian Traykov – bass (Bulgaria)
Veselin NIkolov – drums, cahon (Bulgaria)
Contact email:  bgmttt@yahoo.com     (Youlian Traykov)
---
BLUZY THREESOME – Croatia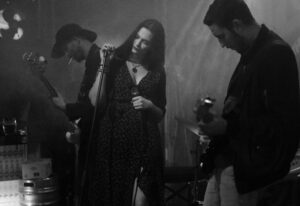 Bluzy Threesome is a four-membered blues/rock band situated in the small industrial city of Sisak, Croatia. Starting as a cover band, respecting the rules of the genre they also give songs a personal signature. Their sound is neither boring nor bland and it showed through their recent original work, which is most of all high energy rock'n'blues with a lot of feeling. Recently the winners of the 11th Croatian blues challenge and semifinalists of 36th International blues challenge held in Memphis in January 2020. With exquisite guitar work, very firm rhythm section and velvety bluesy vocals they have been lifting audiences on their feet throughout the region.
Antonija Kihalić – vocals
Juran Strmecky – electric guitar
Augustin Dovranić – bass guitar
Branko Badanjak – drums
Contact: Bluzy Threesome bluzy.threesome@gmail.com
---
WBAND – Czech Republic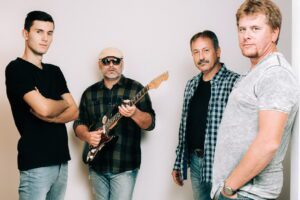 WBand was founded in 2009 when bassist Walter Bartoš, guitarist Palo Hrnčirík and drummer Miroslav Mikeska together created a blues project. Since 2014, Walter Bartoš Jr. started playing guitar in the band. WBand focuses on blues music with elements of funk, soul and rock. Some music passages are close to jazz. The band regularly performs at Central European festivals. This year there were for example blues festivals in Poland (Przeworsk, Suwalki, Chorzow and Krosno), Blues Road and Strážnické rockové slavnosti in the Czech Republic. In addition, he performs on the club scene in Slovakia, the Czech Republic and Hungary. Since 2017, singer Michaela Vraňuchova has been performing with WBand. Band members are often invited as studio players to various other projects.
Palo Hrnčirík – guitar, vocals
Walter Bartoš ml. – guitar
Miroslav Mikeska – drums
Walter Bartoš – base, vocals
Band e-mail: bartw@seznam.cz / walter.bartos@email.cz
---
JAKE GREEN BAND – Denmark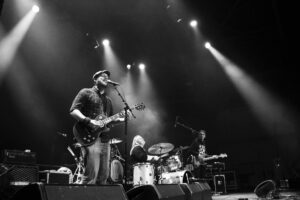 Jake Green Band is not your average blues band.  With remarkably experienced musicians and an extraordinarily strong lead vocal, the band not only aims to venture outside of the boundaries of convention, but also has the technical foundation to do so. The sound of this power trio is an artful mix of blues rock, heavy shuffles and heart-wrenching slow blues, sure to reverberate in your chest and soul. Jake Green Band's third album "Seven Years After" was released in December 2019, following their studio album "Plugging in" from 2015. Jake Green Band mainly releases albums with thoroughly roadtested original songs, but "Seven Years After" does however feature their first ever released cover of Jimi Hendrix's "Hey Joe". The band members span 30 years in age and professional experience in the music industry. This is perhaps what creates the unique combination of solid, traditional blues craftsmanship and elements of other styles of music from the past three decades. Guitarist and singer Jake Green has won the "Danish blues name of the year 2017" award, and has played with just about everyone in the Danish blues scene, not least as a steady host since 2006 at the legendary Thursday Night Blues Jam at Mojo Blues Bar in central Copenhagen. Jake has also wielded his signature green Gibson guitar on many foreign stages (USA, England, Scandinavia, Thailand, Italy, Hungary and more) to great acclaim. Drummer Hans Rosenberg has recorded over 160 albums and played all over the world with big name acts, including Nanook, Teitur, Uffe Steen, and Rasmus Lyberth Band.  Bass player Jens Simonsen is an alumnus of the Musicians Institute of California and has toured the world and recorded countless albums not only as a musician, but also as a producer and sound technician. While touring regularly in Denmark, Sweden and Norway, the band has played a plethora of festivals, including the Copenhagen blues festival, Odense Jam Days, Randers blues festival, Malmo festival, Svalbard Dark Season bluesfestival and also played support for Kenny Wayne Shepherd band, George Thorogood and Walter Trout.
Jake Green (gui/voc)
Hans Rosenberg (drums)
Jens Simonsen (bass)
https://www.facebook.com/JakeGreenBand
E-mail: contact@jakegreen.dk
---
TEELE VIIRA & RAUL UKAREDA BAND – Estonia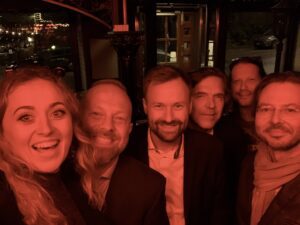 Teele Viira, one of the top young Estonian jazz and pop singers, is equally at home in the realm of rhythm'n'blues and soul. The main role model of Viira is the late Amy Winehouse, whose influence can also be heard in Teele's interpretation of the blues. The recent collaboration with blues guitarist Raul Ukareda is the most noteworthy addition to the Estonian blues scene. Raul Ukareda is a renowned Estonian guitarist and a blues enthusiast. He has his own vision and experience of blues that he himself describes as some sort of intertwining of longing and hope. Ukareda's playing is passionate and focused and he is frequent guest in various projects in his homeland and abroad. Ukareda is a founding member of the 2 most succsessful Estonian blues bands: Tanel Padar Blues Band and Compromise Blue, the latter being the oldest still active blues band in Estonia, that toured extensively in Europe and in the US already in the 1990's.
Teele Viira – vocals
Raul Ukareda – guitar
Raul Vaigla – bass
Petteri Hasa – drums
Taavi Kerikmäe – keyboards
Marek Ellermaa – sound engineer
Contact:
Raul Ukareda – ukareda@gmail.com
---
LUMBERJACKS – Finland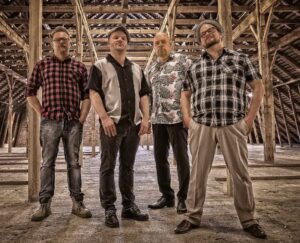 Lumberjacks is a bold mix of styles in the vein of roots music. One foot is nailed to blues but the other reaches soul, funk, rock and even doo-wop. These forest men rely on their own strong compositions which reflect life's ups and downs. That's what the blues are all about! The well thought-out band sound involves all the musicians singing lead and backing vocals, which is another forte of the band.
Miikka "Chef" Kivimäki / bass & vocals
Urmas "Big Hand" Niemi / guitar & vocals
Jarkko Salo / keyboards & vocals
Janne Käpylä / drums & vocals
contact : miikka.kivimaki@gmail.com
---
JESSIE LEE & THE ALCHEMISTS – France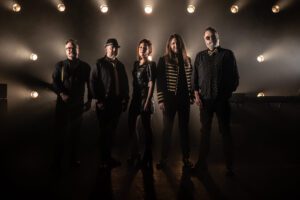 It all started back in 2015, when the band began and quickly became a relentless Blues-Rock machine. The charismatic singer-guitar player Jessie Lee and the incandescent guitar player Alexis "Mr. Al" Didier – both creators and co-leaders of this project – backed by Laurent Cokelaere's raising bass, Stéphane Minana's foolproof groove for drums and Laurian Daire's masterful organ just knocked on music's doors. The first praises were not that far.
Qualified as "Europe's blues scene hope", the band started to sharpen its art on as many stages as possible before taking a huge step, in 2018, by recording their first eponymous album. The same year, the band was rewarded by 5 prizes during the International Mississippi Blues Trail Challenge. A first acknowledgement soon confirmed, in 2019, when they won the Challenge France Blues and a ticket to represent France at the European Blues Challenge 2021. All of those obviously sprinkled with the European audience support.
It is with its respectability's armor and self-confidence that the band recorded in February 2020 at Studio Midilive their second album "Let It Shine" under Hugo Bracchi's hands. They decided to add Fred Magnier (voice recordings and brass), Kevin Shirley (mix) and Alexis Bardinet's (mastering) talents for technic. Let's not forget the wonderful contributions of Amalya Delepierre and Eva Suissa (choirs), Sylvain "Sly" Fetis (sax) and Vincent Payen (trumpet). This project was all recorded and mixed in analogical to stay true to what inspired them for both music and writing.
Jessie Lee, vocals, guitar
Alexis Didier, guitar
Laurent Cokelaere, bass
Stéphane Minana-Ripoll, drums
Laurian Daire, keyboard
---
MUDDY WHAT? – Germany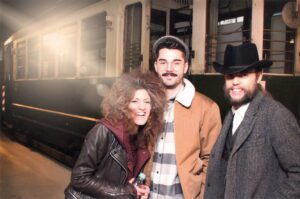 MUDDY WHAT? stands for New Blues: The sound of the Munich-based band is dynamic and distinctive. With their mix of tradition and innovation, they charmingly catapult the blues into the present. The siblings Fabian Spang (vocals & guitar) and Ina Spang (guitar & mandolin), together with Michi Lang (drums), are among the youngest and, at the same time, busiest touring musicians in Germany. For years they have been an established part of the blues community. On stage, they inspire the audience with their many facets and radiant enthusiasm. Unmistakable: the enchanting sound of Ina's mandolin.
Fabian Spang (vocal & guitar)
Ina Spang (guitar & mandolin)
Michi Lang (drums)
Contact e-mail:
---
LAZYTRAINS – Greece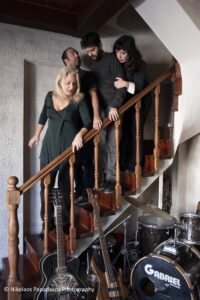 Lazytrains are a blues based four piece act from the region of Greece, who love to perform and share their passion for music delivering high energy performances from small clubs and venues to festival arenas. They released their second single titled Ain't This Kind of Woman, from their upcoming debut album release. Ain't This Kind of Woman is a song that captivates the inner strength and the ongoing battles that a woman has to deal with through her life and the journey to find her integrity. At 2022 Lazytrains will be represent their country at the Blues Challenge organized by the European Blues Union at Malmo Sweden. Despite the tough times, Lazytrains are still envision of a world that money doesn't buy happiness and people come together as one through their love for the arts and not marginalize each other. #Support Art Workers
 Maria Ioannidou – Vocals
Petros Koutroubis –  Guitar
Leyteris Katsas – Bass
Panagiotis Vlahos – drums
Facebook: https://www.facebook.com/Lazytrains
Contact lazytrainband@gmail.com
---
RIPOFF RASKOLNIKOV BAND- Hungary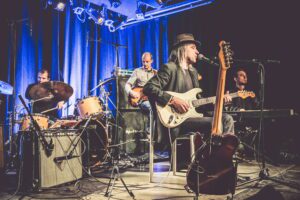 Both an accomplished blues guitar player and a prolific singer/songwriter, Ripoff Raskolnikov must be considered one of the most idiosyncratic figures on the European blues scene. Like thousands of his colleagues, he admires and reveres such blues greats as Blind Willie McTell, Skip James, Robert Johnson or John Lee Hooker. On the other hand, and quite unlike most of his colleagues, he has no desire to imitate or copy them. Nor, for that matter, is he willing to remain within the boundaries of what is generally accepted as the blues.
What does connect him to the aforementioned giants is his fully committed, unwavering integrity in exploring, and coming to terms with such human emotions as love, passion, desire, loss, pain, the quest of beauty, hunger for life, or fear of death. Driven by such forces, Raskolnikov unleashes songs of powerful poetic and musical expression which, more often than not, defy stylistic categorization.
On stage with his band, including Szabolcs Nagy on piano, Laca Varga on bass and Lajos Gyenge on drums, three excellent musicians from Budapest/Hungary who worked on his latest, much-acclaimed albums, whatever the line-up, Raskolnikov never fails to create an ambiance of poignant intensity. He is the sort of artist you like to watch as well as listen to. His stage charisma, his dry sense of humour and his highly personal approach to the blues make him one of a kind.
Ripoff Raskolnikov: vocal, guitars
Szabolcs Nagy: piano
Laca Varga: bass
Lajos Gyenge: drums
Facebook: https://www.facebook.com/ripoffraskolnikov/
Youtube: https://www.youtube.com/user/RipoffRaskolnikov
Contact: 
Peter Podlovics, peter@xlnt.hu
---
CRAZYCROW  – Ireland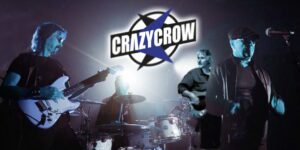 Crazycrow arean lrish band based in Dublin, lreland. The guys produce an energetic and dynamic sound that brings all their years of touring and recordingexperience toevery performance. Their music is informed by the blues, and the influenceof John Hiatt, Jimi Hendrix, EricClapton and Bonnie Raitt is distilled intothe 12original trackson their new album, Movin'On,written and recorded by the band. This is pure music, no loops, no tracks, no samples, just great songwriting with hooks ,grooves and earworms that will stick in your head. They bring this dynamic sound to each performance, wowing audiences and peers with their straight-ahead, no-nonsense approach to live shows.
Gerry Hendrick (guitar, vocals), Denis Doran (vocals)
Geoff Kirk (drums & percussion)
Eric Coates(bass. vocals)
Contact Denis: steelyden3@gmail.com
---
BETTA BLUES SOCIETY – Italy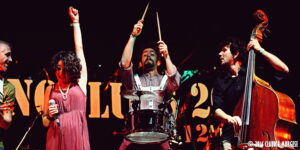 The Betta Blues live show is an electrifying experience. Fully involving the audience, their show is made up of two distinct parts: one part features fresh reworks of blues, folk and gospel standards from the early 20th century. The other part includes original tunes from the album Let Them Out. The album recounts personal and lived experiences – exactly like the blues tradition of the early 1900s. With the charismatic Maulo at the helm, the band lives and breathes the genre in a fresh and original way, without resorting to simple reproduction. Betta Blues keeps the spirit of the blues alive and kicking whilst making it accessible, widening its appeal beyond a niche of passionate followers. A key strength of the band is the blend created by musicians hailing from different musical backgrounds. They fearlessly intertwine blues, swing and rock, putting on an involving and exciting show with a modern twist. In January 2018 the band reached the final at the International Blues Challenge in Memphis (Tennessee, USA) organized by The Blues Foundation, for the first time for an Italian artist.
Elisabetta Maulo: vocal, ukulele
Lorenzo Marianelli: electric guitar, electric dobro
Fabrizio Balest: double bass
Pietro Borsò: drums
contact: bbsreloaded@gmail.com
---
RAMBLIN' SOUTH – Luxembourg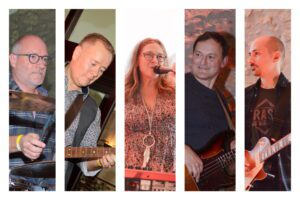 Based in Rumelange Luxembourg, Ramblin' South encompasses the rough and warm essence of the south, mostly inspired by rock, blues and jazz. Established in 2015 some of the bands highlights so far include performances at renowned festivals like Blues Express, Fête de la Musique, Blues 'n Jazz Rallye Luxembourg. Appearances at CCRD Op der Schmelz, Nancy Web-TV and regular gigs in local bars and pubs have anchored the band as a permanent fixture of the local blues scene. A healthy mix of own compositions and interpretations of existing songs, consisting of gripping' harmonica and slide guitar riffs, bundled with exciting boogie beats and a distinct vocal timbre, makes a Ramblin' South concert an unforgettable event!
Lisa Korshin. vocals
Marco Cardoni: guitars
Fabrizio Gentile: guitars
Lex Meyer: Bass
Claude Sandt: Drums
Contact: Marco Cardoni cardoni@vol.lu
---
HARLEM LAKE – The Netherlands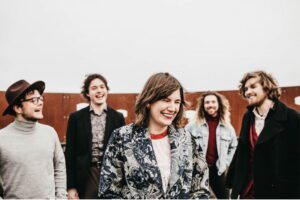 Young, ambitious, sincere, passionate and powerful! You don't need many more words to describe Harlem Lake. The five have a unique formula: a strong front woman with a unique sense of text and emotion, a guitarist full of character who tells compelling stories with his instrument, an ingenious keyboardist/composer/arranger who acts as a musical pillar on stage with a rock-solid rhythm section behind it.
Lead Vocal: Janne Timmer
Guitar: Sonny Ray van den Berg
Keys/BV's: Dave Warmerdam
Bass: Kjelt Ostendorf
Drums: Benjamin Torbijn
Trombone: Maarten Combrink
Saxophone: Jazzton Hulsebosch
Trumpet: Thomas Heijkoop
---
RELOADED NORWAY – Norway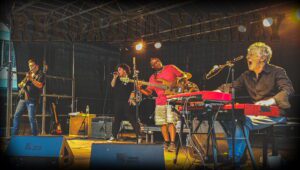 Reloaded Norway is a bluesrock band from the heart of the blues in Norway, the City of Notodden. The vocalist, Heidi Blåsmo, writes the songs and jams them with the other musicians. The result takes you on an endless journey of raw rhythm and spiritual pleasure. Under the hood, you won't get a shiny polished fantasy, but the real deal…grease and all. This is also what you'll get from their newest album «My Longest Mile». «My Longest Mile» is a journey that sheds a lot of pain, but also the finest pleasure. The lyrics are richly spiced by the vocalist's inner thoughts. This album is a good mix of blues and rock, and it is definitely as versatile as the songwriter herself. The guys in the band have shaped the music with a steady hand, and this combined has become something quite unexpected, but exciting. Reloaded is nowadays working on their 3rd album. The singer 'n songwriter is digging even deeper into her "blue" heart. She will give us a taste of the raw swampy Blues, to Motown Bluesy Funk and Jazz this time. The release will happen sometime in 2022. In June 2018 the band got promoted by a Dutch radio host that liked the band and said that this music needs to get a place out in the big world. Since that day, Reloaded Norway's music has been played several times on several radio channels all over the world. They were the "Artist of The Week" in NRK P1 in the north of Norway in May 2018. They have been listed on TOP 20 Pennsylvania, TOP 40 on IBBA's list, TOP 40 as the most played Blues album in Main, USA, TOP 50 Roots Music Report Chart as the most played Blues Rock album, TOP 50 Roots Music Report Chart as the most played Blues album. They got listed as – No 1 – on TOP 50 Roots Music Report Chart as the most played Blues Rock song WORLDWIDE with "Saturday Night Diva". Words like wow's and oh's is often used by their audience. Radio hosts all over, say that this band is different and exciting with a vocalist that is highly extraordinary.
Heidi Blåsmo – Vocalist
Hans Trasti Isaksen – Guitar
Tore Præsteng Thuen – Guitar
Jarle Børresen – Keyboard/Organ
Tony Caddle – Bass
Rune Erling Pedersen – Drums
Monica J. Jensvold – management@reloadednorway.no
---
PETER STORM & THE BLUES SOCIETY – Portugal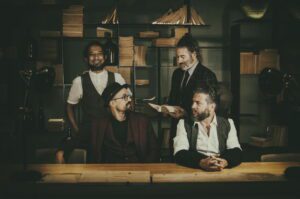 José Reis, Jorge Mister Shuffle Drums Oliveira, Bino Ribeiro and João Belchior are the constituents of Peter Storm and The Blues Society.  The stage is their field of joy, where their Blues really comes alive! Re-born in 2019 as a four piece band, the seasoned Blues musicians from Portugal participated / played in bands such as Johnny Blues Band, Minnemann Blues Band, Judy Blues Eyes Band, The Smokestackers, just to name a few… Their quality as musicians and stage presence are recognized by its pairs and because of that they are often invited to be the support musicians of international bands that are passing through Portugal via blues festivals… cases of Diunna Greenleaf, Shanna Waterstown, Trevor Sewell, etc. With their own signature voice and style, PS&TBS blues takes us to the more conservative side of blues by recreating classics by James Harman, Pistol Pete and Roy Hytower, Albert King, Lonnie Brooks, Buddy Guy, BB King, Magic Slim, Jimmy Burns, etc. Put on hold in 2020 due to pandemic health situation, the presentation of the album First has back to road with a tour in Spain and presence in some of the most important Blues festivals in Portugal. PS&TBS presents a versatile and intimate show based on the experience of its great musicians, involving the audience in a passionate time travel throughout blues history. Real stories, real journeys.
Jorge Oliveira – Drummer
João Belchior – Lead Guitar / Vocal
José Reis – Bass
Bino Ribeiro – Harmonica / Guitar
peterstorm.thebluessociety@gmail.com
---
OTHELLO TRIO – Romania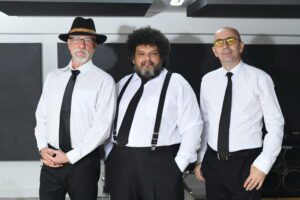 In concept, Florentin Milcof aka Othello has had the idea of a piano blues trio since 2015. Practically however, The Othello Trio had their first public appearance in Focsani in September 2017 and the band's first project is call "Piano Blues Made In Romania." A unique endeavour on the Romanian musical scene, our band promotes the music of great pianists in the history of blues, as well as producing original blues songs in the Romanian language
Othello Florentin Milcof – vocal, piano
Adrian Chepa – bass guitar
Daniel Croitoru – drums
Contacts
milcof@gmail.com
---
HER MEMORIES – Slovakia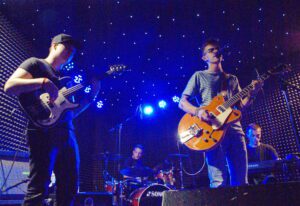 Her Memories is a band that came together in Bratislava, the capital city of Slovakia, in 2017. Heavily influenced by Blues, Soul, and Rock the band members devoted themselves to create a balanced mix on the Blues-Rock core of Her Memories. In October 2019 they released their debut single Unbeliever.
Martin Tomasik – vocals, guitar
Oliver Kucharovic – bass
Damian Szabo – hammond
Peter Garaj – drums
Contact email: her.memories.band@gmail.com
---
MINGO, SANPA & BÁREZ BROS.  – Spain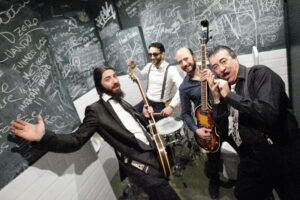 They combine two generations of blues in this country. The mixture of these great musicians is explosive! Their live music, full of energy will keep your feet moving all night. On the one hand, the energetic Mingo Balaguer, with more than 30 years on stage, acclaimed as one of the greatest musicians in the national and European blues harmonica. He has been part of the legendary "Caledonia Blues Band" for ten years and was the founder of "The Blues Blasters" and "Mingo & The Blues Intruders". He has also shared the stage with great artists such as Charlie Musselwhite, Carey Bell, Gary Primich, Sugar Ray Norcia, Kenny Neal, Jr. Mischo, Bruce Ewan, Miguel Ríos, Raimundo Amador, Bobby Radcliff, Charlie Sayles, Paul Lamb, Jerry Portnoy, Sherman Robertson, Otis Grand and Lurrie Bell among others. On the other hand, Pablo Sanpa, who stands out as a national reference in terms of the electric blues guitar, and the brothers Sergio and Pablo Bárez, bass and drums respectively, form a solid and experienced rhythmic base based on playing in the best blues clubs in our country, accompanying a large number of national and international artists every night. Both Sanpa and the Bárez brothers have been part of the bands of artists such as Eddie C. Campbell, Gene Taylor (The Blasters-Fabulous Thunderbirds), Lou Marini (Blues Brothers), James Harman, John Primer, Kenny Blues Boss Wayne, Boney Fields (Albert Collins, Junior Wells) and Nico Wayne Toussaint among others.
Mingo Balaguer: Vocals and Harmonica
Pablo Sanpa: Guitar
Sergio Bárez: Bass
Pablo Bárez: Drums
Band Contact e-mail: mingoba@telefonica.net
---
ORE ISLAND PENITENTIARY BAND – Sweden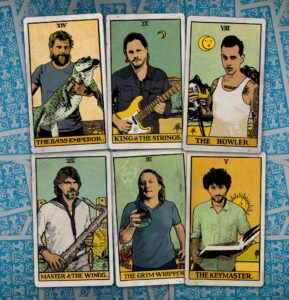 Ore Island Penitentiary Band was born in the swampiest south of Sweden, where there may, or may not, actually be any swamps. We started playing blues standards but quickly realized that we were leaning towards a more theatrical and darker approach to the music, so we focused on the black magic and hence the concept of "rhythm and voodoo" was born. Musically we try to exist in a border-town where Dr John, Tom Waits, Screaming Jay, and Howling Wolf all would be welcome. The band consist of five members. Lupus sings, Jonatan plays the keys, Michel the guitars, Carl works the bass and Hans-Peter plays the drums, and Nils on sax. All the members are better musicians then the singer. But he makes up for it with his obsessive dancing, bootlegging, and general son-of-a-gunness. We try to go 50/50 with our own material and covers, but lately our own stuff has been spilling over.
Lupus Nensén:  vocal
Michael Everbring:  guitar
Carl Svensson: bass
Hans-Peter Nilsson: drums
Jonatan Sersam: piano, harmonica
Nils Lidman: saxophone
Contact: lupusnensen@hotmail.com
---
JUSTINA LEE BROWN – Switzerland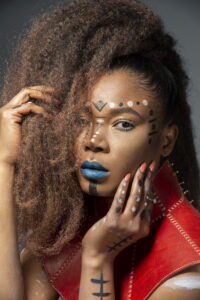 Justina Lee Brown, a singer/songwriter from West Africa is a survival child from the ghetto streets of Lagos, Nigeria, living her life and telling her real story through her music. Her sound is interpreted with Funky Soul Blues and a Fusion of her Afroroots. On stage Justina is a power house and a force of greatness that is truly authentic. During her performances she brings the real magic of music to life, packed with her identity and uniqueness. Justina Lee Brown and her Swiss band are now on tour with their new album " BLACK & WHITE FEELING ". Each song on the new album is a piece of Justina Lee Brown's biography.
Justina Lee Brown vocals/ songwriting
Nic Niedermann guitar/composer/bandleader
Angelo Signore keybord
David Stauffacher percussion
Thom Wettstein bass
Christof Jaussi drums
Contact:
---
THE ACHIEVERS – UK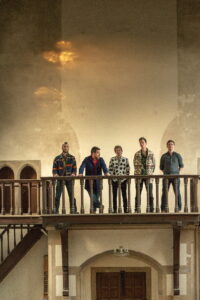 The Achievers are one of the most talked about and critically acclaimed bands on the UK Blues and Roots Music scene. With a reputation for innovation and originality they prove that soul, groove and song-craft still matter in the blues. Based in England but touring the UK & Europe since 2017, The Achievers' live reputation has catapulted them from near-complete obscurity to rave reviews and big-stage appearances across the World. With their infectious rhythms, joyful melodies and four-part harmonies The Achievers draw on their obsession with American vintage dancing music and the songwriting pioneers of early Rhythm & Blues, Americana and Southern Soul.
Steve Ferbrache – Lead vocals & Guitar
Rufus Fry – Harmonica & Vocals
Robert Holmes – Guitar & Vocals
Aron Attwood – Drums & Vocals
Jack Thomas – Bass
Contact: steve@freehouselive.com